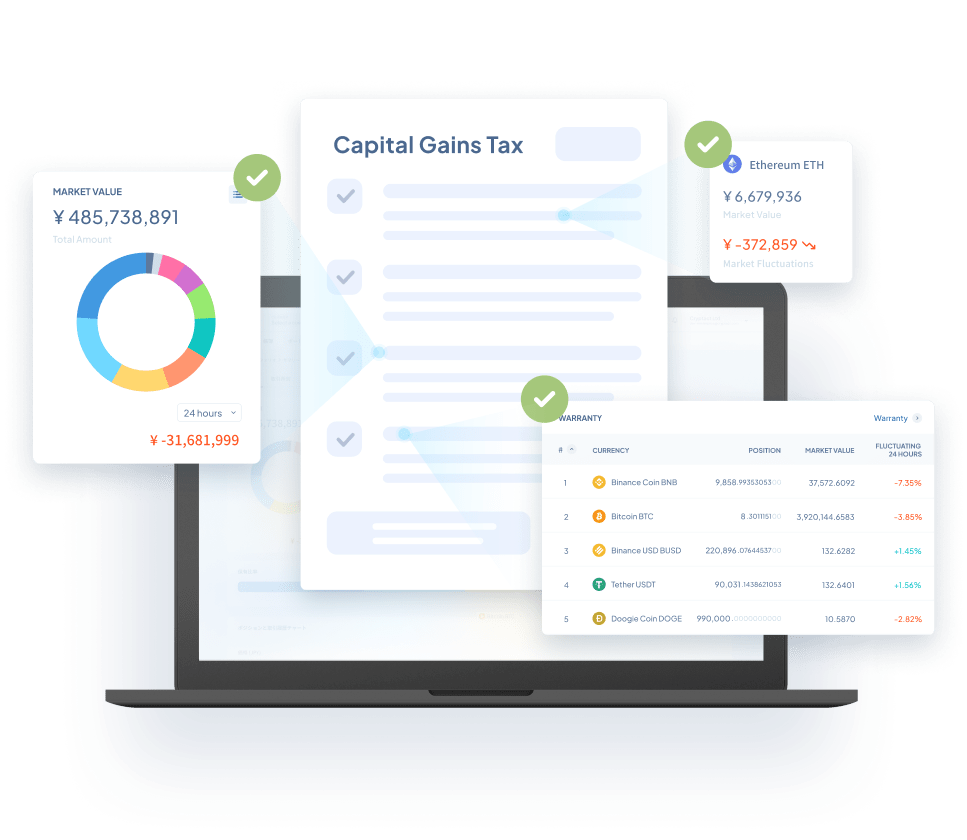 Crypto tax calculations:
Simplified.
Automatically calculate capital gains, get all the information you need to file taxes, and actively manage your portfolio -- all in one place.
Find out more at cryptact.com
Your Web3 Sidekick
defitact lets you visualize, analyze and manage your DeFi assets, NFTs and transactions through a highly intuitive and interactive interface.
Find out more at defitact.com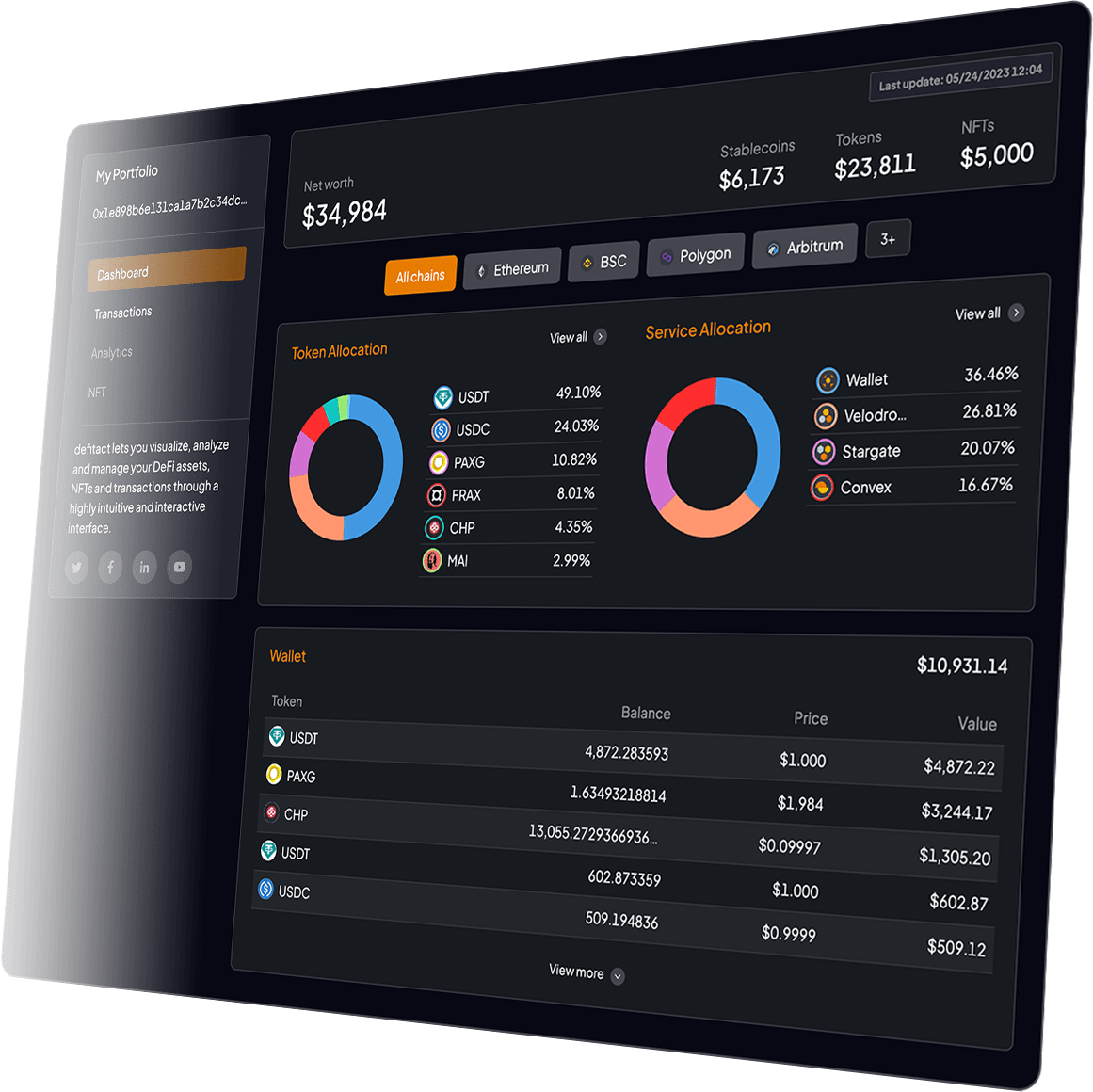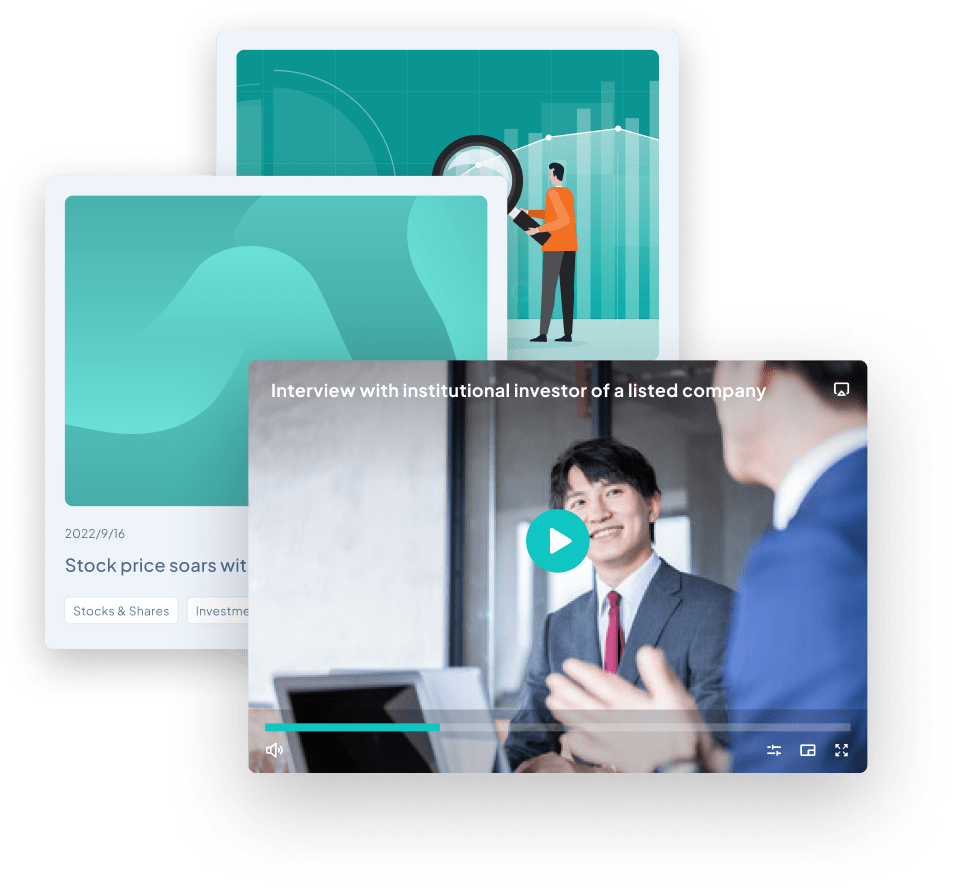 A financial information
portal for investors
Find professional analyst reports, keen insight from institutional fund managers, unique company IR content and much more to help you make more informed investing decisions.
Start exploring fintact.io
Bird's-eye view of the digital financial landscape
We're a team of high-flyers with a collective overview of the digital financial landscape, with experts in cryptocurrency and more traditional investing. We flew the nest at our respective hedge funds and financial institutions with the mission of helping other people get more from their investments.
About Us
Pafin takes its name from the rare seabird which lives on rugged coastal cliffs and windswept, uninhabited islands across the globe. As a bird symbolizing freedom, it is an agile flyer as well as a natural freediver, capable of plunging 50m below the surface to catch its main source of food: fish. In the same free and versatile way, Pafin is an agile and highly capable software company which provides tech-driven services in the areas of Crypto, Finance, and Investment.
Catch six fish in one bite
"Kill two birds with one stone" is the way the old adage goes. We want to go one better with our underlying philosophy, "catch six fish in one bite" which speaks to our comprehensive and ambitious service offering. Our work comprises crypto, finance, investment, tech, defi and NFTs; a rare thing in the current financial world, much like our puffin.
Peer-to-Peer
As peer-to-peer transactions continue to expand, transactions are not only about buying and selling assets and goods, but also about services, information, ideas, experiences, and communities.
What used to take place in real marketplaces (bazaars) now takes place in marketplaces in the digital space. In the future, marketplaces themselves will become unnecessary, and transactions will be possible between individuals without organizers or administrators.
In a peer-to-peer world, on the other hand, people are expected to be responsible for their own actions, which is not the case with marketplace organizers and managers.
Just as technology has made peer-to-peer transactions possible, there will also be a great need for tools to solve the burdens and difficulties that individuals face in the peer-to-peer world.
Value
We provide speedy service, support and after-sales service to meet the needs of our clients and the market with high throughput. We also have a strong and experienced leadership structure in the business areas of crypto, finance, and investment.
Pafin is a progressive company with a tightly-knit team of financial experts based in Tokyo
Company Information
Company Name

pafin Inc.
Date Founded

January 2018
Rep. Directors

Amin Azmoudeh, Co-CEO Gaku Saito, Co-CEO
Equity

1,364M JPY (Including reserve)
Location

Kojimachi HF Building 5F, Kojimachi 3-2-4, Chiyoda City, Tokyo, Japan 102-0083
Amin Azmoudeh
Co-CEO
Gaku Saito
Co-CEO
Shunsuke Masuda
Managing Director
Shuya Matsubara
Director of Business Development and Planning
Asako Motohiro
Director of Business Advancement
Emilien Kenler
Director of Systems Architecture
Deren Keskin
Lead Application Engineer
Guillaume George
Lead Core Services Engineer
Ji Wu
Application Engineer
Jean-Loup Roussel-Clouet
Core Services Engineer
Yumiko Mizukami
Director of Marketing
Tomoko Yajima
Senior Business Development And Planning
Alexandre Dosdane
Core Services Engineer
Thomas Ferreira
Core Services Engineer
Shoko Haneda
Customer Success
Mohanapriya Sathyanarayanan
QA Engineer
Michael Wytenburg
DeFi Engineer
Riko Sekiguchi
Marketing Planner
Mami Nishimura
Market Analyst
Careers
At pafin, we are always looking for people to work with us.
If you are interested, please click the button below to submit your application (you will be redirected to an external site).
View available positions